Cinema program "Neneh Superstar" in Ruda Śląska
No showtimes for movie "Neneh Superstar" for today
Choose other date from the calendar above.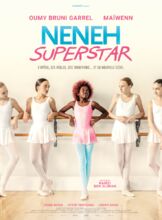 Original title:
Neneh Superstar
Runtime:
95 min.
Production:
Francja , 2022
Category:
comedy
/
drama
Release Date:
29 September 2023
Distribution:
Galapagos Films
Directed by:
Ramzi Ben Sliman
Cast:
Oumy Bruni Garrel
,
Aïssa Maiga
,
Maiwenn
Urodzona, aby tańczyć, Neneh to 12-letnia czarna dziewczynka, która marzy o dostaniu się do Szkoły Baletowej Opery Paryskiej. Pomimo swojego entuzjazmu, będzie musiała podwoić swoje wysiłki, aby wydostać się ze swojego stanu i zostać zaakceptowaną przez dyrektorkę szkoły, Marianne Belage, gwarantkę tradycji oraz nosicielkę sekretu, który łączy ją z małą baletnicą.
Movie trailer: Neneh Superstar